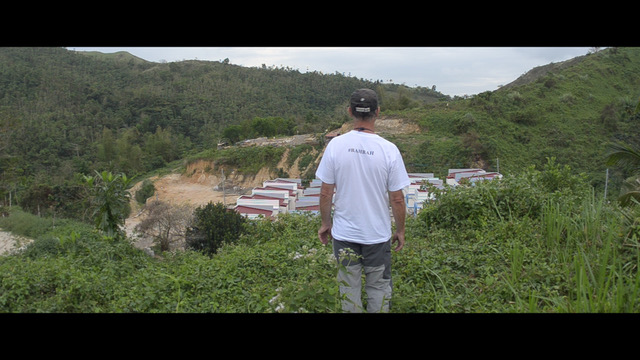 Steve Rae volunteers his time and energy to the Foundation Village.
This week (1st – 7th June) is the beginning of Volunteer week. Steve Rae is an amazing example of volunteering his time and energy to the Foundation and we ask you all to take the time over the week, to help in your chosen way. Whether it is offering your help to us, or your preferred charity, volunteering work is valuable to us all, and very much appreciated.
Here are a few words from Steve about his experience volunteering at our village.
"My first impression of the Greg Secker Foundation village was WOW, and that view became more impressive over the next few days.
The villagers were absolutely lovely people. They were warm and friendly, and incredibly excited about the project – they LOVED Greg Secker, not only for his generosity in funding the project, but his personal touch when he visits the site, and they spoke about him with a huge amount of hope and excitement in their eyes.
In my time with Learn to Trade (Sydney) I had been moved by the update videos on the village with the heart warming stories of local people who will benefit from the generosity of the Greg Secker Foundation. It was just amazing to have the opportunity to meet these people myself, and to hear their stories face to face, …especially young Fatima who received a life changing operation to remove a large tumour. She is now the happiest girl in town and catching up on her school work. She is already enjoying a better and brighter future thanks to the Greg Secker Foundation.
The building site looked very challenging, …beginning with virgin land in the foothills outside a remote village with no infra-structure or utilities only months ago – the project team and contractors had already done a great job in completing 50 houses. There is some urgency to complete the remaining site infrastructure (slope protection, drainage channels and internal roads) before the on coming wet season.
My role was to provide some engineering support to the Project Team, and I had the opportunity to meet with the local engineers to discuss the detail design for the slope protection. The main area of focus being an almost vertical escarpment over 10m in height, which required a substantial retaining wall to prevent the subsidence of 6 houses that would be built on the higher level. How can you resist a technical challenge like that!!
I learned during my visit that this project is not just about providing a home to 100 families, but the Greg Secker Foundation genuinely wants to create a better future and change their lives. This vision is backed up by many initiatives, including a training facility at the village for greater employment prospects. This has to be the gold standard in rebuilding a village!!
My visit to the village as a volunteer was very rewarding and I am definitely keen to contribute further to this Foundation that is making such a difference to peoples lives."
 https://www.youtube.com/watch?v=EVFy857EGKY&feature=youtu.be