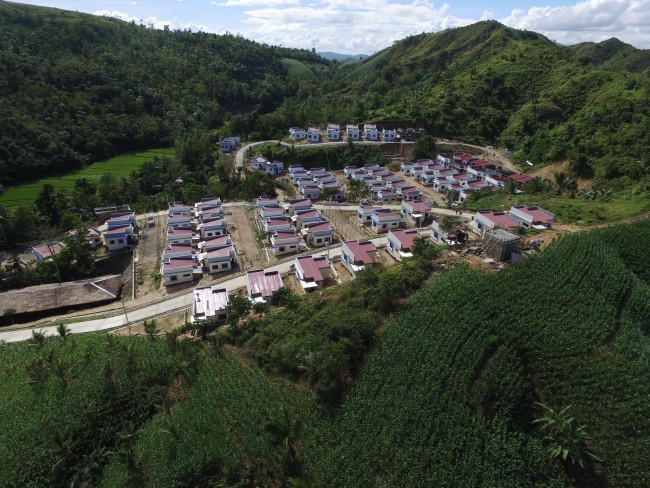 The Opening Ceremony – 5th January 2018
What an incredible few days – where to start is actually quite hard to do. We have done so much in the last few days, so I figured the best way was to talk about the actual opening ceremony and then work backwards letting you know about the build up to the big day. 
Today is the day that the 100 families will move into their new homes. Today is January 5th 2018. It started early with Greg's family, friends and colleagues all meeting for a hearty breakfast before jumping into buses to travel to the village.  The Greg Secker Foundation village is a 2 hour drive from Iloilo City and along some pretty hair raising roads.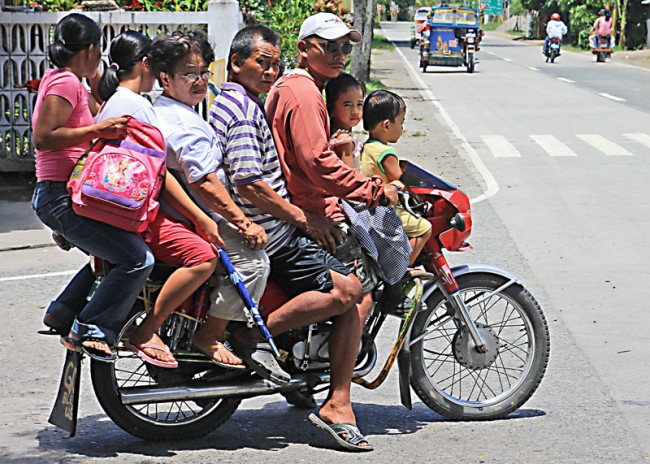 We joined the hustle and bustle of a normal morning for the commuters of Iloilo. Families of five, six and seven people all crammed onto one motorbike – not a helmet in site! The Filipino 'Jeepney' jam packed as people pushed to get the last seat in – and in fact – no need to get a seat inside – just sit on top!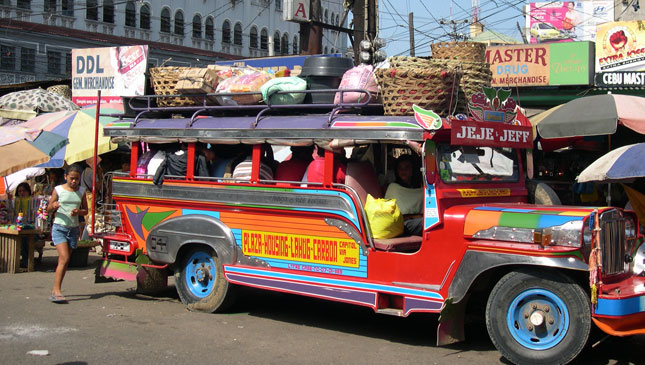 As we travelled through the city in convoy it wasn't too long before the roads opened up into the countryside. Fields and fields of rice with water buffalo (Carabao) duly working with the farmers.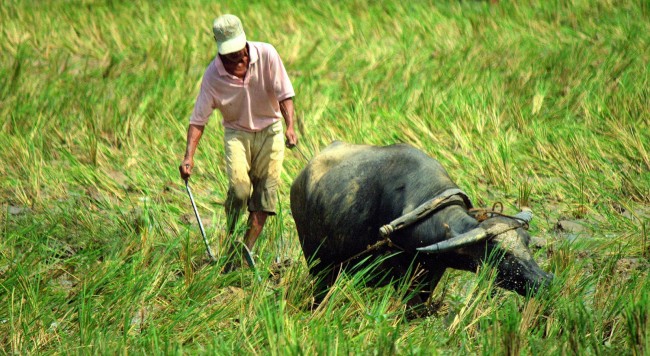 As we arrived into Lemery, which is the nearest town to the village, crowds of people had heard about the big day and the arrival of Mr Greg Secker. They lined the streets, waving and cheering – all excited to get a glimpse of this incredible man who had built an entire village of 100 houses. 
As we turned onto the dirt track that only 2 days previously was literally un-passable due to heavy rain, we began the final approach up into the hills.  We could hear the beat of drums and we were instantly in the throws of the celebrations. Today the families would move into their houses, it was time to party!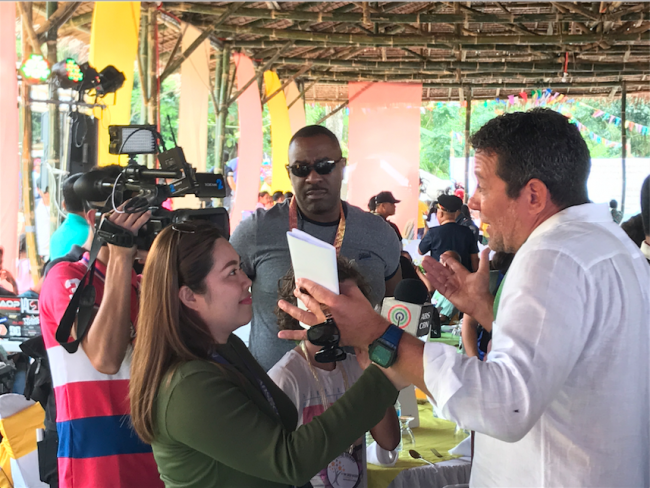 We hopped out of the buses and immediately Greg was surrounded by TV news crews all hustling and bustling to get the first interview with him. The atmosphere was electric as guests, entertainers, beneficiaries all crowded into the social hall.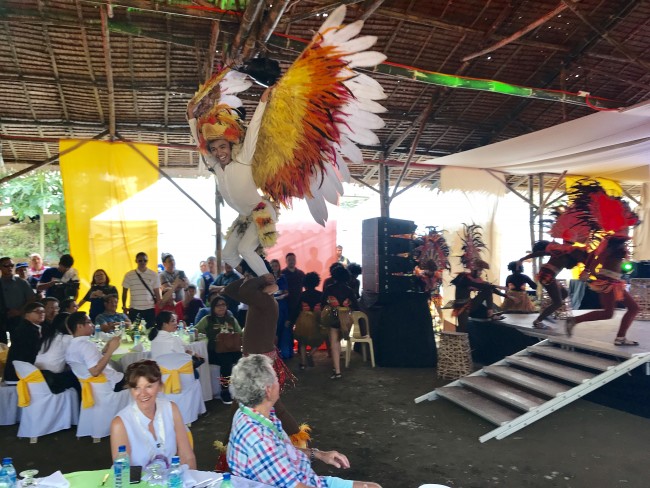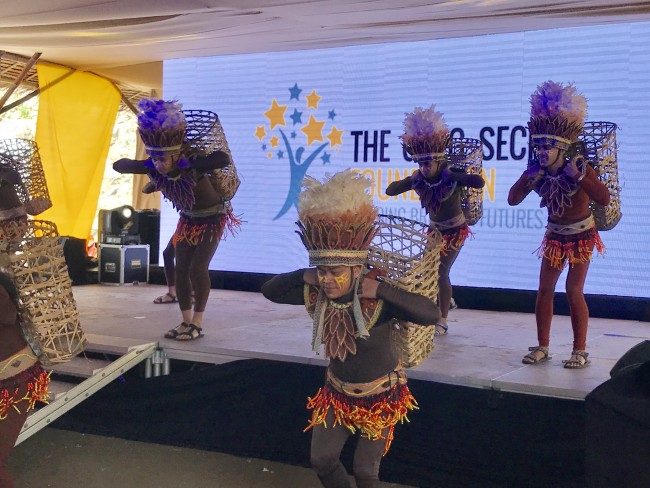 The ceremony started with both the Philippine and English National anthems, and then Greg was introduced to start the speeches. There was not a dry eye in the house as Greg talked of the story behind this project and where we are today.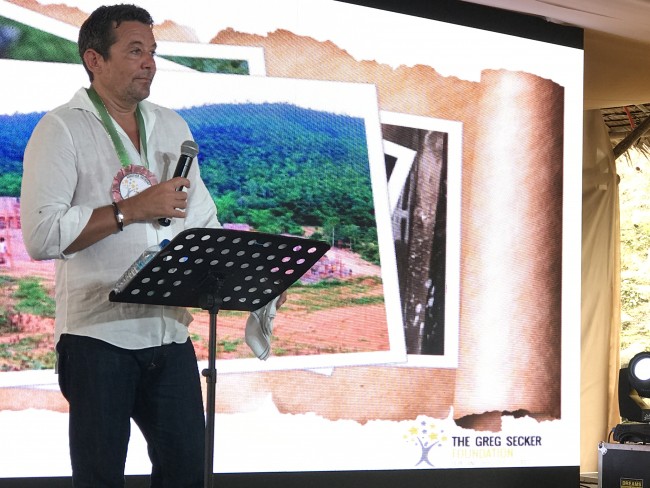 It was heart warming to see the children on the stage with Greg – singing and laughing. It was important to Greg that the beneficiaries really felt it was their home so one member from every family came up to receive their "Certificate Of Occupancy" to their new homes.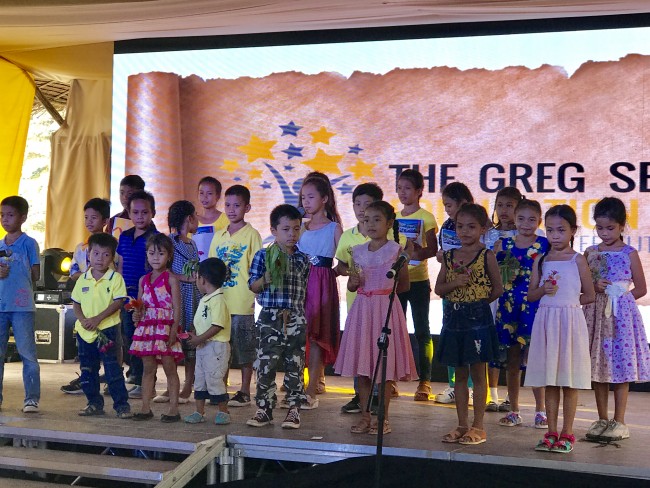 After Greg had spoken, our guest speaker, Nonito Donaire who had flown in from Las Vegas with his wife Rachel, spoke to the children of the village giving them a few inspirational words for the future. Rosario, DR and Alya also spoke – it was just so emotional – looking around at guests, dignitaries, VIPS and beneficiaries dabbing their eyes.  We were very honoured to be joined by Dionne Monsanto, Winston George Ellis, Ms. Angelia Ong (our GSF Ambassador), Under Secretary of Justice – Antonio Kho, Housing and Urban Development – Asec. Keira Buan, Secretary of Department of Justice – Vittilano Aguirre, Mayor of Lemery – Ligaya Porras Apura and Governor Arthur Defensor.  Thank you all so much for supporting us and joining in with the celebrations.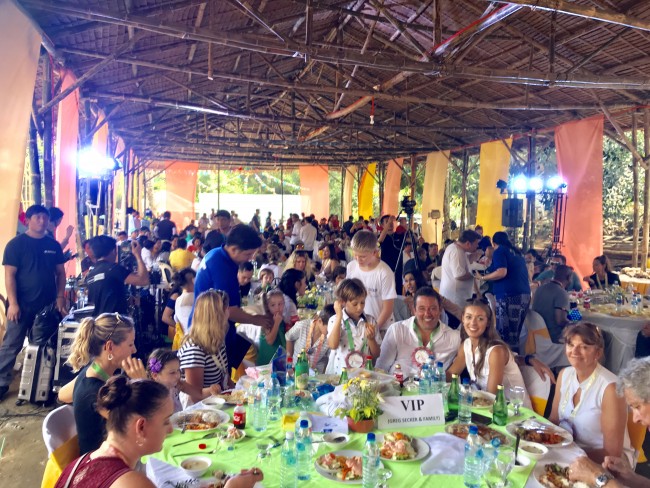 After lunch it was time for Greg and his family to walk around the houses and officially cut the ribbon and hand them over. What an amazing experience for Greg's children to have this opportunity to not only see how hard life can be … but what you can do to make changes and help others.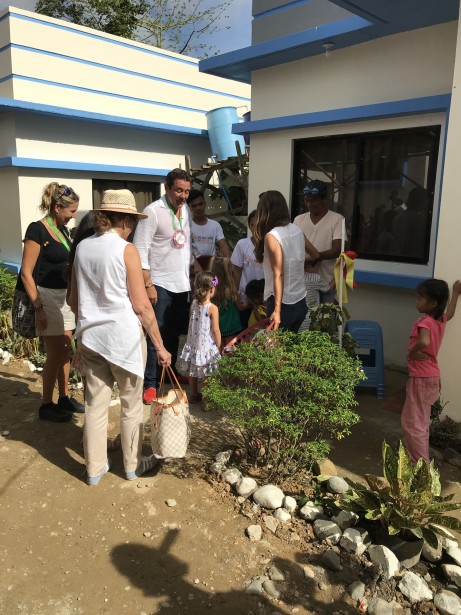 One family in particular that Greg was keen to handover was Raymond's family. A few months ago, Greg flew out on an emergency mission to help Raymond move the remains of his then home to higher ground as the rains had washed his home away.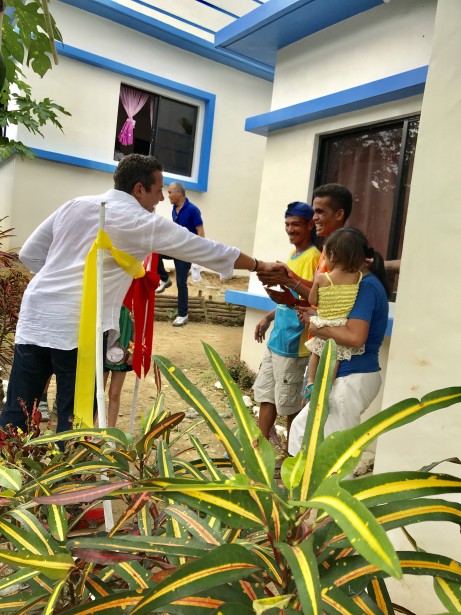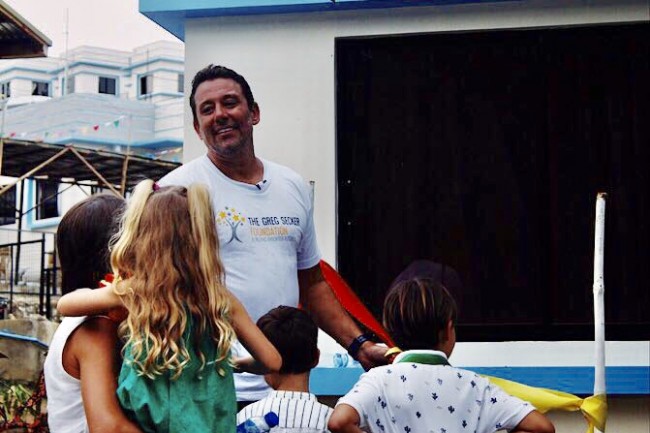 As Greg's family approached the top of the village and looked back there must have been 500 people following – a truly incredible site.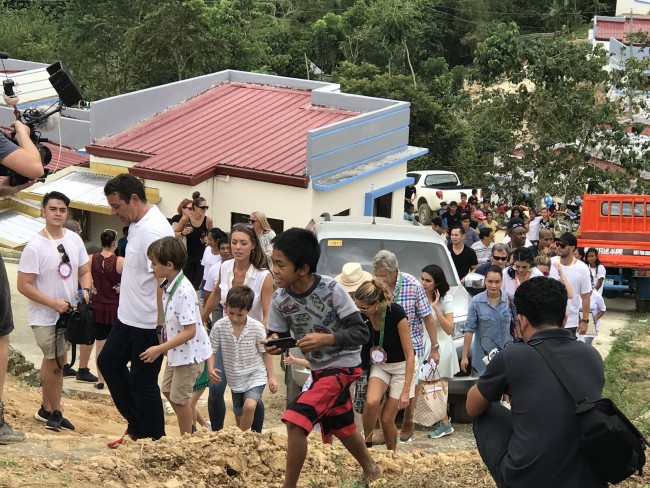 Now Phase 1 is complete, the houses are built – it is on to Phase 2 – building a training centre so the families can learn life skills and become sustainable in the future.  This project will officially be known as the Quine and Mathews Training Centre so it was only apt that James Mathews officially opened this.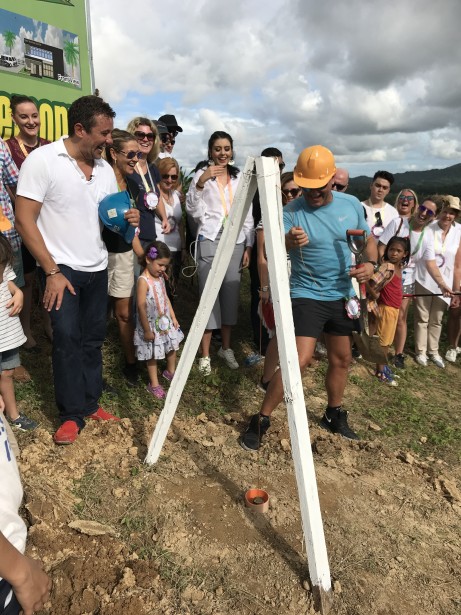 Then it was back down the hill to the other side of the village where a 'Monument of Gratitude' has been built. Every person that has helped – worked – volunteered on the build of the village is to be recognised with a personal plaque put onto the wall.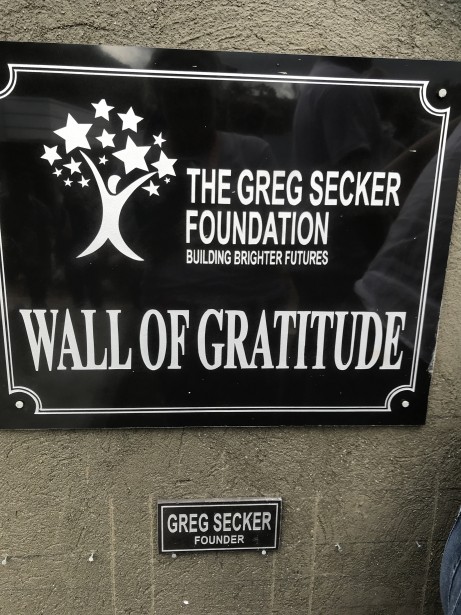 Each person is to leave their handprint underneath – such a lovely idea and one to be able to show future generations.  Greg and his family took turns in leaving handprints.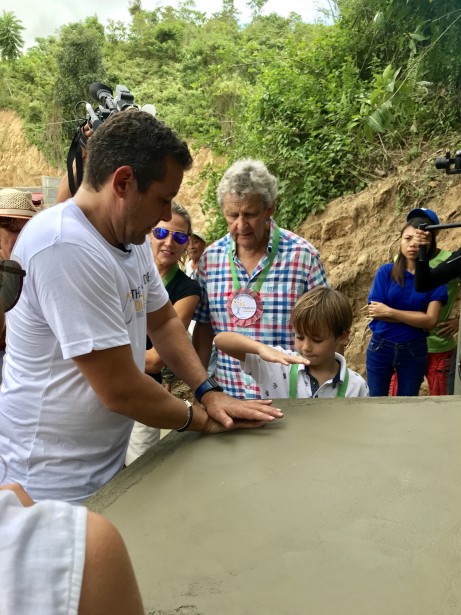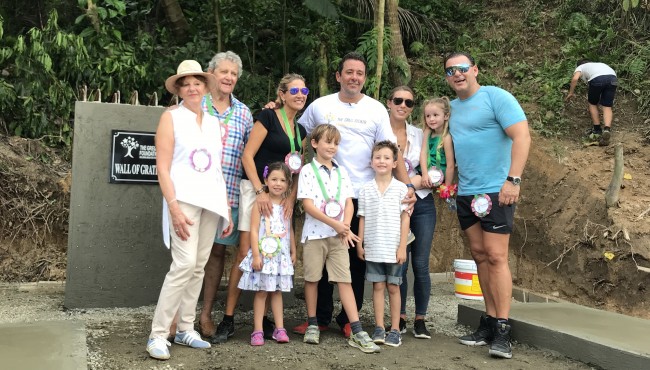 It was now time for all the children to relax and party – a magician entertained the children … and in fact the adults too! Ice cream served by Jolibee, popcorn and other treats were available all afternoon to keep the children well fuelled!  
As it got dark, it was time for music – Fourth Impact were on stage and it was time to party even more. Their music instantly got people dancing, it was a great site to see beneficiaries and guests all together just laughing and having fun.  As the band came to an end it really was time to finish the day. We all walked up to the top of the village and lit 100 chinese lanterns.. These were very symbolic to watch as they disappeared off into the night sky – a symbol of a bright future for the village.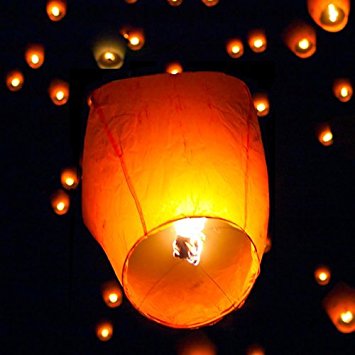 And finally, what better way to finish a day of celebrations than fireworks – these were just fantastic. The echo of the boom in the hills and the flash of the lights is normally a huge electric storm here, but this time for the beneficiaries it was not. The sky was lit up in every colour and the whoosh and whiz of the noise of the fireworks as they went up had us all oohing and ahhing! What a way to end the day. Most people living here had never seen fireworks so it was pretty special to see so many little faces with jaws just wide open in amazement! I am sure these memories will be with them for years to come.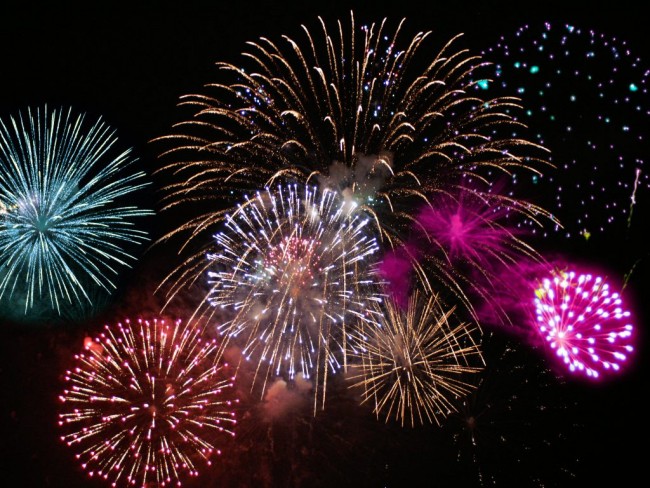 After lots of hugs and tears it was time for everyone to find their transport and head back to the city.  The rain god timed it perfectly, as we all set off, so did he!  
Time to leave these lovely families for now and let them get some well deserved sleep in their homes for the first night.  Tomorrow they will wake up in their bed, in their house, in their village!! And so well deserved …. all thanks to Greg Secker. A man with so much compassion for others and the hugest heart.