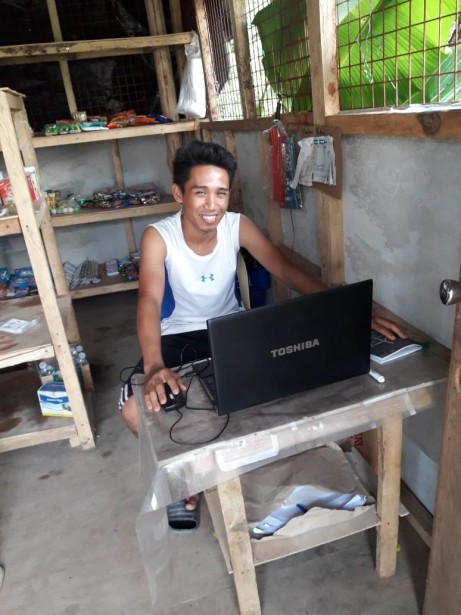 A bookkeeper is hired in the GSF Village.
A few months ago we talked about the graduation of some of the students from the village. One young man who graduated with a Cum Laude in AB Economics, was John Kenneth Valencia. 
John Kenneth has a deep understanding of the GSF Village and the livelihood programmes now in place; the Talipapa market, the Cooperative Store and most recently, the Bakery. All of these require a bookkeeper to properly list, encode and keep the financial records up to date. The GSF team decided to employ a bookkeeper and John Kenneth was hired for not only having graduated in Economics but for also having a good knowledge in computing. 
Alya, our social worker tells us that he is now taking three more units in Education to be able to teach and later on will take a Licensure Examination to be a fully fledged teacher. 
Money is short in John Kenneth's family. His father Benjie, works as a Tricycle driver in Metro Manila and only comes home for special occasions. His mother, Analyn, is a Barangay Officer and his brother, James who is 14 years old, is a Grade 9 student at school in Lemery. Since Benjie is currently the sole bread winner in the family, John Kenneth wanted to help find ways to provide more income for the family and pay for his further education. Now with his job as the GSF bookkeeper, he earns enough money to pay for this and help his brother through education too. 
John Kenneth's dream is not only for the family to live comfortably but for his father to be able to come home and for them to live together. He has really stood out in the village as being a good son to his family, has a great personality and as we have seen has great academic records.
He said to Alya that his is so thankful to the Foundation for providing his family with not only a home but the opportunity to start a new life after the Typhoon. 
We too, are so proud of you and your passion to go further. You are a great inspiration to the younger generation in the village. Well done.