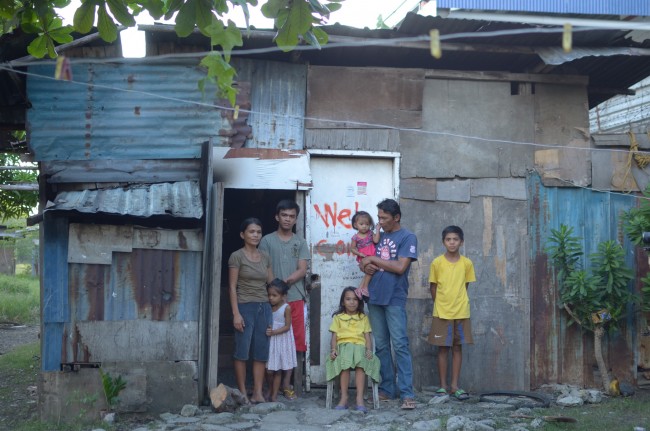 Lemery Visit
The Greg Secker Foundation, after a successful pilot project of developing two homes for families who lost everything in the atrocity of Typhoon Haiyan has decided to embark upon an exciting and daring mission to build an entire village in the barangay of Capinhan. The village will consist of over one hundred modern homes with full access to utilities and essential services.
The community will be further enhanced by the addition of a "training centre of excellence" which aims to provide local residents with skill training and technology to make money for their community outside of traditional sugar cane farming, and ensure the upkeep and sustainability of their community.
Just before Christmas 2015, The Greg Secker Foundation team, including founder Greg Secker travelled to the Philippines to officially launch the Build a House Build a Home Project in Lemery. Secker commented  'it was great to return to Lemery and visit the families for whom we rebuilt new homes following the Typhoon in 2013…and also very exciting to launch the Build a House Build a Home Project.'
Two years after Haiyan struck, the residents of Lemery have not yet recovered from the tragedy, most are still sadly living in shanties or temporary shelters constructed from the basic materials salvaged from their destroyed houses in what is a desperate situation.  Of course these temporary homes are at the greatest risk from further typhoons.
Greg met local villager Sabet, a single-mother living in a shanty with her six children. Sabet moved to Lemery to escape her alcoholic and abusive husband. When the typhoon struck Sabet and her children lost their shanty shelter. This was devastating to them. They have rebuilt a shelter using wreckage from the typhoon but when it rains it leaks. They cook outside amongst 3 rocks and have no toilet. They have barely enough food to survive and all the children are working as farm labourers. Sabet's only wish is to keep her family safe.
James Mathews, Managing Director of Learn to Trade Australia said 'Sabet is truly inspiring, she and her children smile constantly in the face of adversity…Sabet is also incredibly intelligent and it was fantastic to hear how excited she and her children are about the skills and education programme the Foundation will be providing…'
Whilst in Lemery on 20th December, the Foundation team and local officials held a ceremony and forum with local people to launch the project. At the ceremony an address was given by Captain Reynaldo Sanico and Greg Secker. Mr Sanico commented " We are so grateful to the Greg Secker Foundations' essential intervention into our world. They are angels, with huge hearts and a chance for a brighter more sustainable future." Representatives from the department of agriculture, the local college and the municipal health department were in attendance to offer their guidance on creating a sustainable community. The local people then had an opportunity to ask questions and contribute their ideas for making this project really effective especially for them.
On his previous trip Greg met an eight year old girl named Fatima who had been living with a debilitating growth on the side of her hip. Fatima's parents told Greg how she could not go to school because she was bullied by other children. Greg was so moved by her bravery and determination that he organized for Fatima to have surgery to remove the growth. Greg and the team returned to visit Fatima and her family and to deliver some special gifts. Greg said 'it was really emotional to see Fatima again, we are all so pleased, not just with her recovery, but the confidence she now has…it was great to hear how  well she is doing at school…'
The team finally enjoyed a visit to the site of the new village and even got involved in working the heavy machinery! Greg said 'it's great to see phase 1 of the project in progress and get stuck in'.
The Foundation aims to have the village completed by Summer 2016.