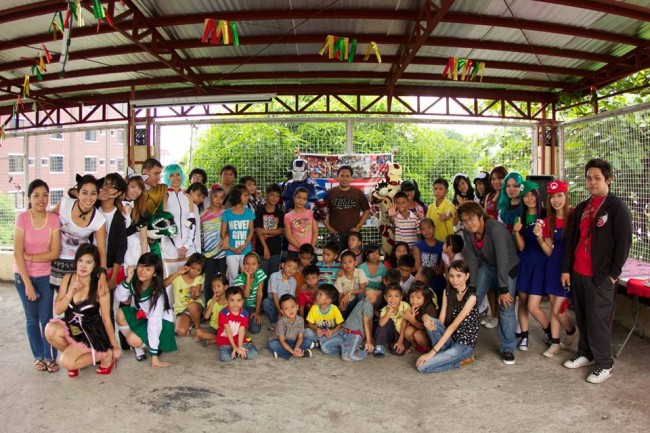 The House of Refuge
Each Christmas the Greg Secker Foundation, in conjunction with the Learn to Trade companies in the UK, South Africa and Australia work with various charities, including the Salvation Army, to provide Christmas care packages and hampers to those who need it most. This year was no exception…On Tuesday 22nd December, Greg Secker, Founder of the Learn to Trade Group and the Greg Secker Foundation along with some of the team from the Learn to Trade Philippines office visited the House of Refuge Foundation Inc (HORFI) in Manilla to deliver some surprise Christmas gifts for the children who live at the refuge.
HORFI's mission, which began almost 30 years ago, is to care for street children who have been abandoned, neglected, or maltreated. It not only provides these children with a home and basic needs but its philosophy is to nourish the spirit, mind and body through formal and informal education and also the arts. During the visit Greg and the team saw a wonderful display of award-winning martial arts from some of the residents of HORFI. Secker said 'My Grandmother was an orphan so without the work of orphanages I wouldn't be here today…it was a heart-warming day and the children were wonderful, the martial arts exhibition was fantastic…it is incredible what can be achieved when you give children an environment in which they can thrive'
Since its inception HORFI has served more than 1000 children and currently cares for 37 children aged 4 to 17. HORFI's Directress Glady Banau told the team about her latest mission, which is to build a new clinic at the Refuge. Ms Banau runs the centre and looks after all of the children living there, she said 'It is vital we have the facilities to provide the children with good medical care and so we are trying to raise 2.3 million to build a new infirmary.' Greg and the team were so moved by her dedication that it was a no-brainer but to offer to help Glady with her new mission. Secker said 'it's critical that these kids can receive the health care and vaccinations that they need…I asked her how much she needed and Glady told me she had raised about 1 million so far…we decided right there and then that the right thing to do would be to donate the rest of funds required…'
The visit was a huge success and brought smiles, laughter and tears of joy to everyone and the donation from the Foundation has allowed building of the clinic to begin immediately.