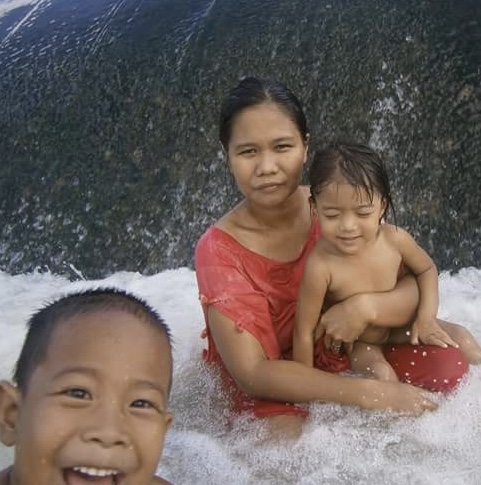 Portia En Shakespeare tells us in her very own words about life before Typhoon Haiyan ..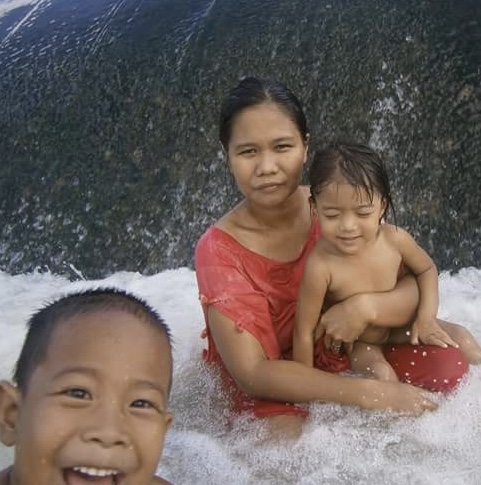 One of our beneficiaries, Portia En Shakespeare writes in her own words about life before Typhoon Haiyan and becoming one of the families who live in the GSF village. 
In a shanty cottage there lived a young couple with three little children. They live a very simple life, yet they are happy and content. They have never owned a radio or a television, and they don't have appliances. All they have are the piles of books that the mother has kept for years. In their leisure time the mother would read her little children stories. She read to them every night before they went to sleep.

The couple live according to their earnings that they work hard for. The father works as a hire hand in the corn and rice field and also sometimes in carpentry. The mother helps her husband too and also does all the household chores. She bakes a buko (coconut) pie in the early morning and sells it in the nearby school canteen to add to her husband's income.

Despite their living conditions, the couple have a dream. The couple dream to one day give their children a decent house to live in and their children are the reason why they are striving hard to battle the poverty.  The mother always thinks of ways to help her husband. She wants all the best for her family especially her little children. Every night when they are fast asleep she looks at them very carefully and thinks hard for some other ways to support them. Sometime she thinks of going to a far place to work and give her children a better house and better living. However, she has too much love for her husband and children, which forbids her to leave. Her desire to be with her family every day is stronger than her desire to leave and find work. All she wants is to see her children grow and teach them the right things that her father taught her when she was a child. Her family, especially her children are her priceless treasure that she will treasure for her whole life.

One day, whilst sitting on a chair something sparks in the mothers mind, she realised something within herself, the talent that she had hidden for years. Unknown to others, the mother has a talent in writing. She knows how to write; stories, poems, and even books, like the ones she kept in their house. She only did it just to entertain her small children. With that realisation she started to make a plan, she went to the nearby school where she used to sell her pies. She talked to some teachers who were close to her and told them her plan. After hearing her story, they promised to help her to start. With her friends help, she starts up her writing project, which will help lessen the financial burden of her family with her earnings. Her writing serves now as the bread and butter of the family. The couple can now buy new things in their home. Their children can now buy the food they want and new clothes to wear. The couple begin to save money to build a new house.

However, in the middle of her journey whilst saving money for a house project, life hits them very hard once again. On November 8th, 2013, Typhoon Haiyan hits their home and leaves a trail of total destruction with nothing left behind. During the typhoon the family ran to their neighbours house to shelter. From the distance, the couple saw how the typhoon cruelly ruined their shanty cottage that was once their home. A home where their dreams had started. Hurt and uncertain of the future now, the mother could do nothing but to cry and hug her little children to protect them from the wet and cold. She thought that her wet clothes were less cold than the future that her family were now facing. They don't have a house to live in anymore. Typhoon Haiyan has stolen and ruined everything that they had. It ruined not just their home, but also their dreams and their future. The four portals of their shanty cottage now only served as a witness to their dream. It was scattered all over, along with the mother's treasured books which were now destroyed by the rain. The books that she has taken good care of for years have now gone.

The couple and their children were left uncertain after the typhoon. The father almost lost hope. Their home had been devastated and the only thing that was left was their faith and their dream. The mother persuaded her husband not to worry because God will help. She said that it is just a portal of woods that has been destroyed by Haiyan. Haiyan is not enough to turn down their faith and determination. Haiyan cannot stop them to persevere.

The couple started to build a new cottage out of the materials that was left by the typhoon. It felt like they were starting all over again.

A few years have now passed. The town has now returned to its normal activities. New buildings have been built and classes have returned back to their normal schedules. The couple still live in the little cottage they built. One day, with hope the mother visited the nearby school again, and once again asked her friend who was a teacher if she can start writing again. Her prayers have been answered, as one of them needs her writing.  The mother was very happy and she became even happier when she heard that The Greg Secker Foundation had visited their town and were looking for beneficiaries for their "Build a house Build a home" project. She tells the news to her husband and they decide to apply the very next day.

The couple attend some interviews with the Greg Secker Foundation Team and not long afterwards, they hear the amazing news in a letter that announces that they are chosen to be one of the beneficiaries in the Greg Secker Foundation Build a House Build a Home project. They will be entitled to own a new house. The couple rejoice tremendously from the good news. They thank God and the Greg Secker Foundation for the opportunity to have a brighter future. The couple works voluntarily on the building site, as they waited for the turnovers day to come.

Months have passed and their most awaited day has come. The family prepared their things to be move in their new home. It was the very day of the mother's birthday, a day before the inauguration day when they move in. The mother could not believe everything that was happening as the GSF staff help carry their belongings inside their new home.  She felt so loved that even the baby in her womb felt it too. She was really gifted by God, a gift of a home where she could raise her four little children and let them grow and turn into brilliant but humble people in the future.
The mother thanked God through his instrument to touch their heart and make their dreams come true. 
by Portia En Shakespeare