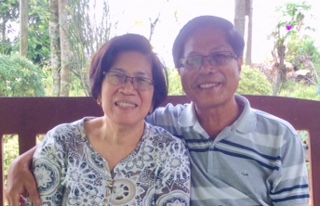 Ric and Prof. Hope Patricio join the Foundation.
We are delighted to announce that Ric and Professor Hope Patricio have joined the Greg Secker Foundation, as Consultants and Advisors for the Livelihood and Sustainability Programme in the GSF Village. 
Professor Hope is a Professor in Soil and Horticultural Sciences at Central Philippine University, while Ric was former Professor in the same university and served as director of its planning and development office. He was former National Consultant for UNDP and the World Food Programme, Regional Economist Consultant for Asian Development Bank, Socio-economist Consultant for The World Vegetable Center, and International Agricultural Consultant of Goducate.
Aside from Ric's current engagement with GSF, he is Agricultural Consultant for PT Unimax Power Indonesia, Corporate Secretary of Unimax Power Asia Philippines, and country resident agent of Water Missions International, USA.
As you can see, we are extremely honoured to have such a wealth of experience and knowledge joining us.  
Stay tuned to hear what incredible work they have already begun….