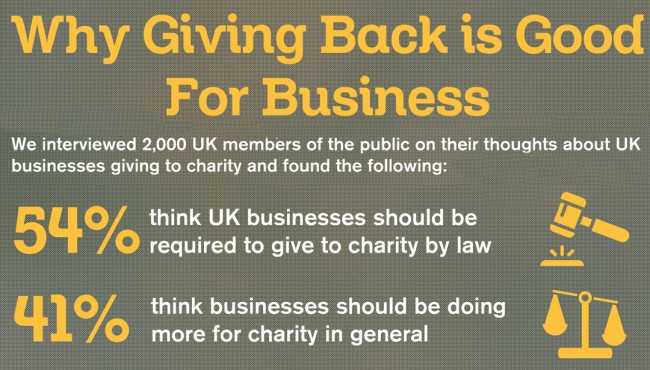 Giving to Charity Good for Business Survey Finds
New research from the Greg Secker Foundation and YouGov finds 54% of UK respondents believe UK businesses should give a percentage of annual profit to charity by law. 
LONDON, UK, September 5, 2017 – New research from social development charity, the Greg Secker Foundation, has revealed 54% of UK respondents believe UK businesses should be required to give a percentage of their annual profits to charity by law, outlining a strong moral obligation for businesses within the UK. The research – conducted among over 2,000 UK adults (+18) – questioned public opinion on whether UK businesses are doing enough for charities. The results show many UK businesses are missing a trick by not focusing more of their efforts on philanthropic activities.
The findings revealed donating a small percentage of annual profits (up to 5%) to charity would significantly better the image of the business to consumers. If consumers knew a UK business gave 5% of its annual profits to charity:
43% would have a more positive opinion of the company
20% would use this company over competitors companies
17% would recommend the company to friends/family
The research also found donating a percentage of profits isn't the only option for businesses, with 41% of those surveyed believing businesses should be doing more for charity as a whole. Offering pro-bono services that map back to the business' specific area of expertise came out on top with 25% of respondents wanting to see more of this. Donating more of their profits followed with 24% and upskilling members of the community 21%.
"UK businesses are already doing excellent work for the third sector, and the government's tax relief incentives are certainly a step in the right direction. However, what these results show is there is public appetite for more, both morally and legally," said Greg Secker, founder of the Greg Secker Foundation. "Time and time again we see the benefits a thorough corporate social responsibility programme offers businesses, with the figures here speaking for themselves. By simply donating a small percentage of annual profits to charity, businesses are able to increase brand loyalty, positively shift perceptions, and increase their potential customer pool, all the while helping a good cause. We would just like to encourage businesses to keep the third sector in mind because helping out is good for business."
Research Methodology
All figures, unless otherwise stated, are from YouGov Plc. Total sample size was 2191 adults. Fieldwork was undertaken between 22nd – 23rd August 2017. The survey was carried out online. The figures have been weighted and are representative of all UK adults (aged 18+). References to "UK businesses", relate to private sector businesses of 50 or more employees.